Lorinda's Legacy (ISBN # 1-929202-02-4) is based on an actual murder that occurred in Kentucky in 1909. After finding the transcript of the 1910 murder trial in the cellar of an old courthouse, Clarissa Thomasson wrote a fictionalized account of the murder and its aftermath. The novel deals with multiple family tragedies that begin before the murder and stretch into the present day as the great-granddaughter of the victim learns of the troubled past of her grandmother and her family.

Aware of their fathers' long-standing feud, fifteen-year-old Lori Beth Causey and her neighbor, Willie Phelps, must keep their romance a secret that summer of 1919. When her father, Clint, refuses to allow Lori Beth to attend a local barn dance, Willie decides to romance her plain older sister, Leah Belle, then brag about it in town. Willie's trick to embarrass Clint backfires, however, unleashing a string of tragedies.

Forty years later, University of Florida co-ed, Lorinda Lockridge, begs her fiancé, Dick Everett, to take her to North Carolina to find her unknown "Grandmother Lorinda"--pictured in her locket. Dick offers to help...until Lorinda's father asks him never to let her research her roots. Years later--after her father's sudden death--Lorinda and Dick finally enter her father's hometown, Clint's Bend, North Carolina, where Lorinda's Legacy has been waiting.

Key Benefits
Repercussions of a family feud spread like ripples on the turbulent Roanoke River and will keep the reader enthralled.
Mystery lovers will continue to turn the pages until the surprise ending.
Lorinda's Legacy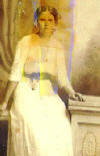 Lorinda